Wollaton 'aggressive' robbery gang sought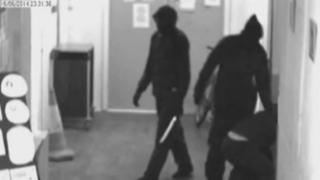 Police have released CCTV footage of three suspects wanted in connection with an attempted robbery at a supermarket in Nottingham.
Thieves forced their way into a Co-op store in Wollaton on 16 June and threatened staff with knives before putting them in a dark store room.
Officers said staff were repeatedly assaulted and had their mobile phones stolen.
The men fled after failing to gain access to the safe.
Det Con Jim Bravant said: "This was an ill-planned robbery where staff were subjected to a very aggressive assault.
"The last thing these workers should expect in their jobs, serving members of the public, is the fear of violence or to be involved in a frightening robbery."
The staff members were left extremely distressed by the ordeal but not seriously injured, he added.