Maggie's cancer centre at Nottingham hospital burgled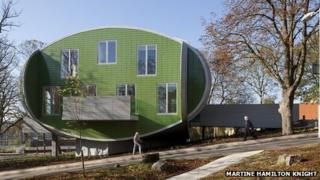 Thieves have stolen thousands of pounds from a cancer charity following its fund-raising summer fair.
Police are investigating the theft from Maggie's, which offers support to anyone affected by cancer, on the grounds of Nottingham City Hospital on Sunday evening.
A safe containing cash donations and money raised at the fair was stolen, along with computer equipment.
Four computers were stolen from the cancer support centre in 2012.
Door smashed
Cancer patient Joan Bateman said: "I think it is dreadful. People who do this sort of thing do not realise the amount of hurt they are causing us."
Fundraiser Anna Read added: "We feel absolutely gutted. All the volunteers worked so hard to raise the money - I feel like it is a slap in the face that someone could come in and take that money away from us.
"To choose a cancer charity to target is horrible."
Centre manager Kate Martin said: "The front door was completely smashed in when I arrived at the centre - my heart sank.
"We are now looking to improve security and are working hand in hand with the police to catch the thieves."
The centre relies on fundraising to run its programmes and workshops.
It was officially opened by designer Paul Smith in November 2011.