Imperial Tobacco and Thoresby Colliery workers 'highly skilled'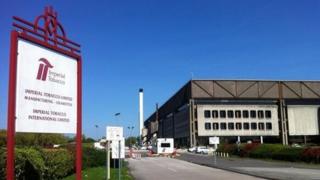 A council report into redundancies at two sites in Nottinghamshire has said a high proportion of the 800 workers affected are "highly skilled".
The study examines plans to close the Imperial Tobacco factory in Nottingham and Thoresby Colliery near Ollerton.
Councillor Diana Meale, chair of the economic development committee, said it was also "very concerning" that so many staff are under the age of 50.
She added that the county council would try to help those affected.
'Early retirement'
The report said the staff facing redundancy at both sites are not only highly skilled but are also well paid compared with many in other industries across Nottinghamshire.
The document added that finding employment for those workers at a similar wages levels, between £35,000 and £50,000 per year, would be difficult.
Ms Meale said: "That's a very concerning thing... it's terrible for them, particularly as we understand their average age is less than 50. Obviously they're people with family responsibilities and not ready to take early retirement."
The document also said that the loss of the jobs to the local economy was significant.
In April, Imperial Tobacco announced plans to close its factory in Thane Road, Nottingham, which employs 540 staff, under restructuring plans.
A month later, about 270 workers at Thoresby Colliery, one of England's last remaining deep coal mines, were sent redundancy letters.
UK Coal intends to close the Nottinghamshire pit along with Kellingley Colliery in North Yorkshire.
Nottinghamshire County Council Economic Development Committee are due to meet later on Tuesday to discuss the report.