Former Nottinghamshire PC Simon Abell spared jail in 'sex texts' case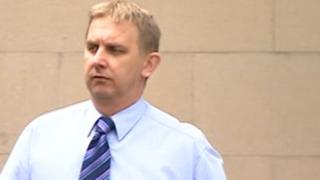 A policeman who sent "sex texts" to a victim of crime has been given a given a six-month suspended prison sentence.
Simon Abell, who was based at Sutton-in-Ashfield, Nottinghamshire, admitted sending the sex-related texts between November 2011 and February 2012.
At Nottingham Crown Court, he was also ordered to perform 150 hours community service after admitting misconduct in a public office.
The 42-year-old constable resigned from Nottinghamshire Police in May.
'Abuse of trust'
Abell, from Sutton-in-Ashfield, pleaded not guilty to two further misconduct charges concerning sexually inappropriate behaviour.
The prosecution agreed no further action would be taken on those two charges.
Det Supt Jackie Alexander of Nottinghamshire Police said: "What Simon Abell did goes against everything that we, as a police force, stand for.
"He should have been there to protect vulnerable people and uphold the law but he abused this position of trust.
"We need to acknowledge that in all professions there will be a minority of individuals who try and use their position for abuse or sexual exploitation, and sadly this will, on occasion, also include these who work in policing.
"Simon Abell not only acted criminally towards to a vulnerable person, but he also let down the vast number of officers and staff who are committed to helping and supporting people in their time of need."