Nottinghamshire MP John Mann claims sex abuse files 'destroyed'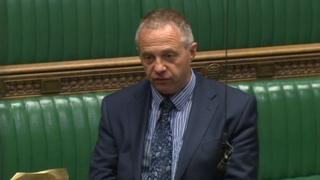 An MP has accused Nottinghamshire police and the county council of losing and destroying files relating to child sex abuse allegations.
John Mann made the allegations in the House of Commons calling for the cases to be included in the independent inquiry led by Baroness Butler-Sloss.
The county council said all historical abuse claims are taken seriously.
The police said an investigation into three victims was ongoing and they will review a further two cases.
'They deserve justice'
In a question for the Home Secretary Theresa May, Mr Mann accused the county council of destroying files while he claimed the police had lost details of the allegations.
Speaking outside the Houses of Parliament, he said they were "horrendous cases" of child abuse dating back up to 20 years but not one of them had resulted in a prosecution.
"What I am certain of is that these people, traumatised by events as small children are not making anything up.
"They deserve justice and the fact that none of them have gone to trial, that suggests to me that the way these have been handled is less than satisfactory."
Reviewed allegations
On Wednesday, Mr Mann detailed his complaints in a letter to the police and council officers.
A spokeswoman for Nottinghamshire police said there were three ongoing investigations.
"We will now begin to review the allegations made by two further victims, which were previously investigated by the force," she said.
A spokeswoman for the county council said: "We treat all allegations of abuse seriously whether current or historic and we will of course co-operate with any request for information."
Mrs May told Mr Mann she would expect the inquiry panel to identify "wide ranging lessons" to be learnt.
Earlier this week, Mrs May announced plans for two investigations sparked by claims of a Westminster cover-up of a paedophile ring - one a Hillsborough-style independent inquiry into whether public bodies properly handled allegations of child sex abuse.
It will focus on documentary evidence but will have the power to call witnesses and could later be made a full public inquiry.