Lottery bid to turn Bridgford Hall into a hotel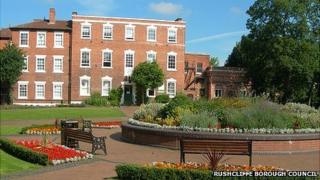 A historical Grade II listed building could be turned into a luxury hotel if a bid for £2.5m funding is successful.
The future of Bridgford Hall, in West Bridgford, was uncertain after owner Rushcliffe Borough Council put the lease up for sale last year.
The Georgian building has previously been used as offices by the authority and housed the register office.
Councillor Simon Robinson said funding would help restore it after failed attempts to find new leaseholders.
The council, which has owned the building since 1923, will apply for a Heritage Enterprise Grant from the Heritage Lottery Fund.
Mr Robinson, cabinet member for finance and economy, said the council had made "strenuous attempts" to find new leaseholders and new uses for the building.
"We think this use is a win/win all round," he said.
"If we get the lottery funding, this development will support the local economy, make good use of one of our prominent assets and will also retain the local area's distinctiveness for residents to continue to enjoy."
The outcome of the first round of funding bids will be known in December.