Nottinghamshire Police told to improve budget cut plans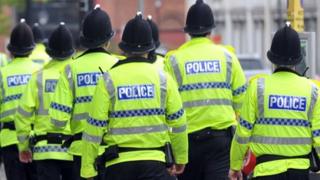 Frontline services could be affected if Nottinghamshire Police does not put in place plans to save £8.2m next year, a report has warned.
HM Inspectorate of Constabulary (HMIC) said the force was one of three in England and Wales which "must improve" how it operated with less funding.
The report found there had been "disappointing progress" since last year in agreeing plans.
Police and Crime Commissioner Paddy Tipping said plans were now in place.
'Rash decisions'
The force has met savings targets every year since the spending review began in 2010 and has identified £34.3m of the £47m total it needed to save, the report said.
But the report said it must "redesign" how policing was delivered with "significantly fewer officers", to achieve next year's savings.
Zoë Billingham, HM Inspector of Constabulary for the eastern region, said the force had recognised "for some time" that its operating model was increasingly becoming "unaffordable".
"Nottinghamshire Police must urgently put in place a new model of policing that is both affordable in the longer term and that continues to keep the people of Nottinghamshire safe."
Mr Tipping said that the force had put in place measures to protect neighbourhood policing.
"Although some of the findings were fair at the time they were written, we reject the notion that we've been slow to implement change," he said.
"The challenges we face are significant and require careful consideration. We've been determined not to make any rash decisions that we later regret."
In October 2010, the government said funding for the police service would reduce by 20% between 2011 and 2015.
Neighbouring forces - Lincolnshire, Derbyshire and Leicestershire - were among the 35 deemed to have made "good" progress.
Five forces were "outstanding", while Bedfordshire Police and Gwent Police were also told to improve.