London Symphony Orchestra trumpeter killed in A1 crash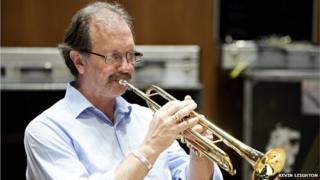 A "hugely respected" trumpet player with the London Symphony Orchestra (LSO) was one of three victims of a fatal crash on the A1 at the weekend.
Roderick Franks had been a member of the trumpet section since 1988 and professor of trumpet at three music schools, the LSO said.
The 58-year-old from St Albans was a passenger in a car that collided with another vehicle in Nottinghamshire.
Married couple Leroy and Sheila Carrington died at the scene.
'Seemed invincible'
An LSO spokesman said Mr Franks had been "beset by health issues" for the last ten years but never allowed them "to compromise his supreme professionalism".
A post on the the orchestra's website said: "Hugely respected and immensely popular with members of the orchestra, conductors and audience alike, Rod will be missed for his ever-welcoming friendliness and brilliant playing."
He was born in Shipley, West Yorkshire, in 1956 and joined the LSO in 1988. Two years later, he was made principal trumpet chair.
He was "passionate" about educating young musicians and had been professor of trumpet at the Royal Northern College of Music, the Guildhall School of Music and Drama and Royal Academy of Music.
Head of brass at the Royal Academy Mark David said: "His resilience and strength in the face of so many health problems over the past few years were astounding. So much so, that he seemed invincible.
"That his life should be cut short in an accident is cruel and tragic beyond belief."
The road was closed in both directions at Ranby, Nottinghamshire, for several hours after the accident on Sunday night.
Nottinghamshire Police said Mr and Mrs Carrington, aged 68 and 58, from Killingworth, Tyne and Wear, were in the other car.
Mr Franks' 26-year-old driver was taken to Queen's Medical Centre in Nottingham with minor injuries.