Nottingham prison 'blinding' prompts mental health questions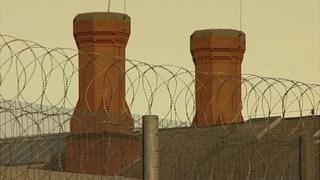 An inmate at Nottingham Prison has been taken to hospital after reportedly trying to blind himself.
The Independent Monitoring Board - which oversees prisons - confirmed the incident happened on Monday.
The Ministry of Justice said staff at the Perry Road site reacted quickly and no other prisoners were involved.
Officials confirmed an investigation is under way but have not yet commented on reports from other inmates the man suffered mental health issues.
East Midlands Ambulance Service said it was called to the prison at 18:43 BST on Monday to treat a male patient in his 50s for facial injuries.
The prisoner, who was reportedly just days from release, was taken to the Queen's Medical Centre for treatment.
Stefan Spencer, who was released from the prison this morning, said: "We are given plastic knives, forks and spoons and I was told this guy grabbed two of these and stabbed his eyes.
"The ambulance came quickly but there was lots of screaming and banging on doors and everyone heard that."