Mansfield's 'street of shame' in £8.4m redevelopment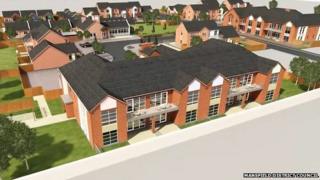 Plans to redevelop a Nottinghamshire road once dubbed the "street of shame" because of drug use and anti-social behaviour have been revealed.
In 2011, homes on Brownlow Road, Mansfield, were demolished after being boarded up for more than eight years.
Mansfield District Council said the new £8.4m development would have 64 homes for older people, who need some care.
Residents still living in the troubled area said they are frustrated that designs have taken years to implement.
The council said as part of the plans a further 100 properties, most family homes, would also be built.
Tony Egginton, executive mayor of Mansfield, said the project aims to "regenerate the district, provide decent homes and support our most vulnerable people".
He added that after the completion in 2015 it would be "somewhere that we can be proud to say is in Mansfield".
The area was once home to a thriving community until a nearby coal pit was closed in 1983.
It later became a ghost town as many families left the area, resulting in homes being boarded up and crime thriving.
Three years ago, most of the homes were bulldozed in a £11m clearance as the council looked to redevelop the area.
The road was labelled the UK's "street of shame" by newspapers in the 1990s.