Newstead Abbey white peacock hatched from eBay egg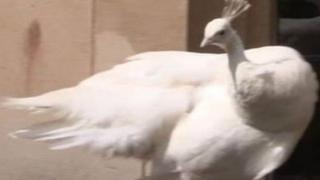 A "rare" white peacock hatched from an egg bought on eBay has been released in the grounds of a Nottinghamshire abbey.
Arthur Parkinson, who looks after the peacocks at Newstead Abbey, bought the egg for about £40 and hatched it using an incubator.
The 21-year-old said: "Newstead has always had peacocks, but when I came here they were in decline so I wanted to do something about it."
He said once born the chick was "fostered" by one of his chickens.
Late bloomer
Newstead Abbey, owned and operated by Nottingham City Council, is the ancestral home of the poet Lord Byron.
Mr Parkinson said: "Some people come just to see the peacocks - so to have a rare white one makes it something very different."
He said although white peacocks were bred in other countries, there were not many available in the UK.
"To get a white peacock you have to have the birds in pens, and then mate a white peacock with a white peahen.
"Otherwise you simply won't get the colour."
The young peafowl, which has been named Tracy after a worker at the abbey, is presumed to be a male but because it is still a young bird it has not yet grown long tail feathers.
"We think he is a peacock due to the amount of time he is spending looking in a mirror and also the size of his head and crest.
"The tail feathers look serrated which tells me he might be a peacock but we won't really know until he is three years old when he starts developing his tail plumage," he added.
Mr Parkinson said Tracy would be kept on his own for a while until the rest of the flock got used to him.
"It will be a slow process and we will introduce him to the rest of the flock gradually," he said.