Nottinghamshire road death tombstone signs stolen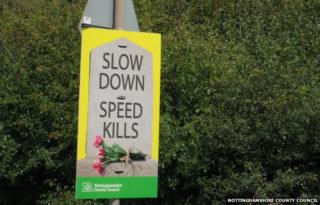 A speed awareness campaign was sabotaged before it even began when vandals cut down "tombstone" signs.
Nottinghamshire County Council put up 50 "slow down, speed kills" posters in the shape of a headstone but within two days almost half had vanished.
Because the signs were securely attached to posts, officers believe the five-mile stretch of road was deliberately targeted.
The awareness campaign was due to start on Monday.
All the signs were printed on corrugated plastic and securely attached to posts with cable ties along the A60 between Ravenshead and Redhill, the A617, near Newark, and on Netherfield Lane, Meden Vale.
Within a couple of days somebody had cut down all the signs on the A60 and Netherfield Lane and taken the 23 posters away.
Zena Oliver, from the council, said: "They haven't just been torn down and thrown into the hedgerow - they've completely disappeared.
"Someone obviously knew what they were up to as they must have had the equipment with them to cut through the cable ties.
"They have absolutely no scrap value and it's hard to see what else they can be used for, so we have to assume that this is just wanton vandalism by someone who objects to our campaign."
The council, which checked it was not a mistake made by other local authorities, said it was reluctant to replace the signs but it has not affected its determination to reduce speeding.
The three roads are notorious for speeding motorists and there have been several people seriously injured in accidents in recent years, the council said.