Graffiti sprayed on Mansfield mayor Tony Egginton's home and car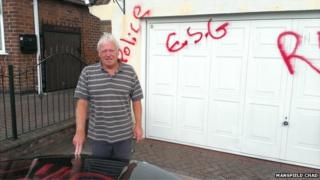 Graffiti appearing to refer to a child custody case has been sprayed on the car and home of Mansfield's directly elected mayor.
Tony Egginton believes he was wrongly targeted as he has not been involved in the case.
The phrase "Stop family courts takin kids of parents now" was also sprayed on the doors of Mansfield Registration Office in Nottinghamshire.
Both sets of graffiti were discovered on Monday.
Mr Egginton said there was "extensive" damage to his home and on every panel of his Mercedes car.
"It's the first time anything like this has happened in 12 years as the mayor," he said.
"It's rather sad when it's in my last few months that this has happened.
"I made that decision to retire after three terms and it's things like this that spoil the wonderful period that I've had."
The words included "police", "sex offenders", "cort case", "rule by law" and "ESG", thought to stand for Eastside Gang.
Mr Egginton told the Chad newspaper he could have been targeted because of his membership of the Nottinghamshire Police and Crime Panel.
He was not at home when it happened, but drove back from a family holiday after a neighbour phoned and told him.
He said the wording "wasn't pleasant" and was "offensive to say the least".
Nottinghamshire Police is investigating.
Diane Smith from Nottinghamshire County Council's registration service said: "I have no idea why someone with a grievance like this should target our building because we have absolutely nothing to do with the courts or children except the birth registration of newborns.
"All this serves to do is cost local council taxpayers a lot of money to sort out."