Hama Faraj Noori murder: Nottingham men both jailed for 25 years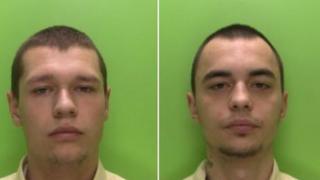 Two men who strangled an Iraqi Kurd refugee to death have been given life sentences for his murder.
Patryk Karol Srutkowski and Pawel Bugajski, both 22, used a belt to strangle and kill 56-year-old Hama Faraj Noori at his Nottingham home in January.
Both men were sentenced at Nottingham Crown Court on Wednesday and told they must each serve at least 25 years.
Both men denied murder but were found guilty after a trial.
Mr Noori, an Iraqi Kurd, was found dead in Uppingham Gardens, on 25 January.
Nottinghamshire Police said he had spent the night drinking whisky with Srutkowski, of Woolmer Road, the Meadows, and Bugajski of Alfreton Road, Radford.
Bugajski claimed Mr Noori had made a sexual advance towards him which led Srutkowski to ask Bugajski to kill him.
He used Srutkowski's belt to strangle him and then covered his face with a sleeping bag as Srutkowski held Mr Noori and Bugajski kicked him.
The pair tried to burn his body after the attack, in which he also suffered several broken ribs, a broken nose, and signs of blunt force trauma to his face and head.
Two teenagers, who knew Mr Noori, discovered his charred body, police said.