Missing prize-winning Sister Mary scarecrow found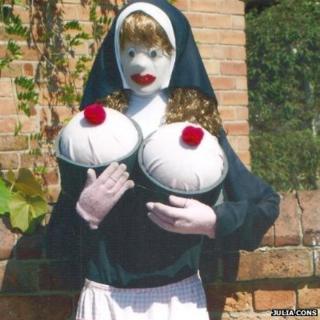 An award-winning nun scarecrow which was stolen from outside its owner's home has been found.
The "Cupcake, Vicar?" scarecrow, or Sister Mary, won second prize in a scarecrow contest held in Caythorpe, Nottinghamshire, earlier this month.
The next day she was taken from outside the home of owner Julia Cons, who offered cupcakes as a reward.
PCSO Keith Crowhurst came across the cupcake holding nun in six miles away George's Lane, Calverton.
Mrs Cons said she was surprised the scarecrow had been found.
"We were really upset to have her stolen and never imagined we would get her back," she said.
'Too hot to handle'
She said she believed the 'nun-nappers' had dumped Sister Mary after her disappearance made national news.
"I think all the media attention obviously made her too hot to handle," said Mrs Cons.
"I think we will have to put her back for a little while to show the whole village she is back."
She said the scarecrow would be returning to her spot outside the house with a new sign: "Keep your hands off Sister Mary's cupcakes."
Sister Mary came joint-second in the contest, along with a zombie scarecrow.
She missed out on first prize to a witch stuck in a tree, accompanied with a sign saying: "Don't drink and fly."