Kilimanjaro meningitis fundraisers left at airport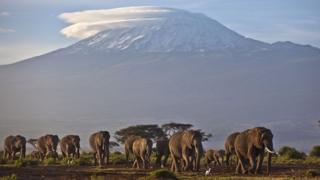 Dozens of university students who were due to fly to Tanzania on a charity trek were forced to abandon their trip after the travel firm went bust.
About 40 University of Nottingham students were planning to climb Mount Kilimanjaro in aid of the Meningitis Research Foundation.
The group included meningitis survivor Tom Parker, from Wearside, who said they were only told the news shortly before flying from Gatwick.
He said it was "a punch in the gut".
'Close to my heart'
Mr Parker, who was due to fly out with the group on Thursday, said: "Everything had been paid for, but we were told in an email that on arrival in Tanzania there would be no transport and no accommodation.
"We were strongly advised not to fly, simply because it wouldn't have been safe for 40 students to end up in Tanzania without any plans."
The travel company, GBCE Ltd, trading as Student Adventures, specialised in organising charity challenges for students.
In a statement, the firm said: "We regret to inform all of those who have booked with us that, unless you are informed to the contrary, all trips going forward are cancelled."
It said trips booked before March were covered by its ATOL protection scheme and customers should receive a full refund.
Administrators Smith Cooper said budget prices and small profit margins had led to the collapse of the firm.
Mr Parker added: "Hopefully we will get our money back, but I've had a lot of people sponsor me a lot of money for the charity, which is close to my heart.
"I need to come up with some substitute plan in order to make their sponsorship worthwhile."
"I had meningitis a year and a half ago and that was my motivation to do the challenge," he added.