Cat poisoning scare in Calverton village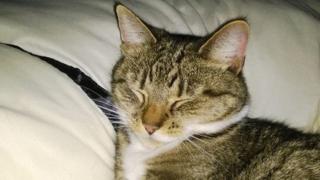 Animal welfare officers have warned pet owners to be vigilant after the suspected poisoning of more than a dozen cats in one village.
The RSCPA, supported by the police, is investigating the deaths which happened over the summer in Calverton, Nottinghamshire.
The charity stressed the deaths could have been accidental but said it wanted to prevent further incidents.
Nick Lawlor claimed his cat died after it was deliberately poisoned.
'Pain and misery'
He said seven-year-old Piper probably ingested anti-freeze.
"Everybody's got their suspicions, nobody has any real proof, I'm just scared it's going to be someone I talk to every day," he said.
"For how violent the death is it's not just about hurting cats, I don't think, someone is trying to cause as much pain and misery as they can."
Lee Poole has also claimed his cat was deliberately poisoned and said it had to be put down by a vet because it was so ill.
He said: "[There's] no chance it's an accident... a lot of people are concerned and won't let their cats out."
The RSPCA said in a statement: "We just want to warn people in the area and urge cat owners to be vigilant. This could have been accidental, but we want to prevent further incidents in the future."
Nottinghamshire Police said they were supporting the RSPCA's investigation.