Nottinghamshire Police will 'not attend third of crimes'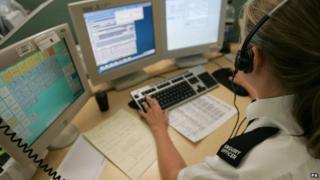 Nottinghamshire Police will not attend up to a third of reported crimes in a bid to battle spending cuts.
More investigations will be carried out by civilians and over the telephone to free up officers' time, in the policing plan for the next four years.
The force said it was one of the last in the country to still try and attend every reported crime.
The Police Federation said it would cut off the police from the public affecting confidence in officers.
Last week it emerged that nationally, victims of crime were being "encouraged" to investigate offences themselves.
HM Inspectorate of Constabulary said criminal damage and car crime were "on the verge of being decriminalised" in many parts of England and Wales because forces had "almost given up".
The Nottinghamshire force's latest news comes after its Chief Constable Chris Eyre said the number of officers of his rank in the East Midlands could be reduced from five to one.
Vulnerable victims
The plan was outlined in the force's updated police and crime plan to 2018.
Supt Mark Holland, who helped draft it, said: "One of the things we will be doing more of is telephone investigations.
"We won't be attending up to about 30% of crimes, which we've tried to attend historically."
But he added it would be considered on a case-by-case basis and they will always go if a victim is vulnerable.
The plan will also see more civilian investigators which Supt Holland said made sense for tasks such as searching for CCTV.
Phil Matthews from the Nottinghamshire Police Federation said: "It's cutting off the police from the public they serve.
"The only time we will get to see the public now will be in confrontational situations. That isn't going to do much for our public image."
Mr Eyre said: "The whole reason we are doing this is to make sure we can protect the visible officers we have working in local communities.
"In a world where we know we are going to face significant cuts again, we have got to try and shape our services differently."