Mansfield vicar in discarded syringe fence row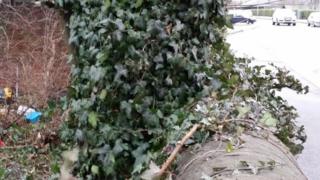 A vicar who wants to prevent discarded syringes from being thrown into his garden has said the local council will not allow him to build a mesh fence.
Keith Hebden, who lives at the vicarage at St Mark's Church in Mansfield, Nottinghamshire, is worried about the safety of his two young children.
Mansfield District Council has recommended Victorian railings that are "in keeping with the neighbourhood".
But Mr Hebden said the iron railings would not solve the problem.
'Visually obtrusive'
The vicar said he found several needles a week on the property.
The council said it operated a hotline service and could arrange for the collection and disposal of needles, syringes and other contaminated objects within 24 hours.
A council spokesman said: "It was considered the proposed fence would be visually obtrusive and harmful to the character and appearance of this conservation area."
Mr Hebden said he was worried about allowing his children, aged four and seven, to play in the garden or asking other children to attend community church events at the property.
"The fence would barely be seen by anybody," he said.
"It seems to be more important to not to have a fence than that our children don't get hepatitis.
"A syringe could be thrown at any time - and I can't be 24-hours-a-day vigilant."
A council spokesman said: "We are now awaiting more information from the applicant, before making a final decision."