Kamari Parker accident prompts crossing delay anger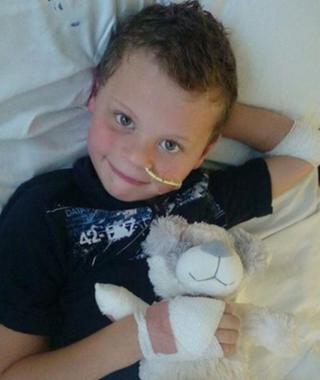 A mother whose six-year-old son may have been paralysed in a car accident has criticised the lack of crossings where he was hit.
Kamari Parker was trying to cross Southchurch Drive, Nottingham, on 29 July when he was hit by a vehicle.
Lisa Gilman said three crossings were removed during tram works and a new one has still not been switched on.
The city council expressed sympathy for the family and said it would activate the lights as soon as possible.
Southchurch Drive has been the focus of construction work for months as part of the Clifton extension of Nottingham's tram network.
The three existing pedestrian crossings along it were removed.
Kamari was going swimming at Clifton Leisure Centre when he was injured.
Accidents risk
Mrs Gilman said she had been told Kamari's spine was bruised and he might never walk again.
He also suffered brain damage, the extent of which is being assessed, she said.
Shortly after the accident, Nottingham City Council said "a permanent pedestrian crossing outside the leisure centre would be installed as soon as the contractors were able... and it should be working by the end of the month."
Mrs Gilman said the ongoing lack of a crossing meant there was a risk of more accidents.
She said: "There should be a safe crossing now. I don't want to see another child, or an elderly person, or anyone, get hurt.
"I think they should have put temporary lights up and working at the start of the school holidays.
"I don't want this to happen to another family."
In a statement, Francis Ashton, the council's service manager for traffic and safety, admitted the tram works had gone on longer than necessary but said: "We are doing everything possible to ensure that the current one-way restrictions can be removed and a permanent pedestrian crossing installed.
"There is a 20mph speed limit in place and there is signage directing pedestrians to the nearest crossing a short distance away."