Nottinghamshire parish councils threaten legal action over greenbelt housing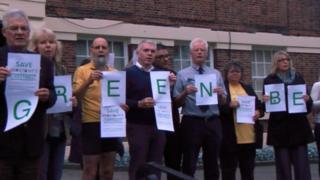 Greenbelt campaigners have said they are considering legal action against plans for thousands of new homes.
A blueprint to build more than 6,150 homes in Broxtowe, Nottinghamshire was approved at a full borough council meeting on Wednesday.
The development forms part of a larger combined core strategy for greater Nottingham which parish councils say they hope to appeal in the High Court.
Broxtowe councillor David Watts said he felt a challenge would be unsuccessful.
In July, an independent government inspector approved proposals to build 30,000 homes and infrastructure in Nottingham, Gedling and Broxtowe by 2028.
'Disappointed and saddened'
Another 19,300 have been earmarked for the Erewash and Rushcliffe areas.
The plans include sites such as Boots, Field Farm in Stapleford and Toton, near a proposed HS2 station.
Michelle Patel from campaign group South Broxtowe 20/20, said they were "disappointed" and "saddened" by the latest approval.
"We would have liked the outcome to be different but we will continue to campaign," she said.
"We do feel there are lots of valid arguments that have not yet been acknowledged."
John Hess, political editor, BBC East Midlands Today
This issue has been so controversial because it is about greenbelt land that has been cleared to be built on for housing developments.
On Wednesday, Broxtowe Borough Council approved plans for 6,150 new homes which forms part of a target for greater Nottingham to build 50,000 new homes over the next 14 years.
Despite this final approval this whole issue could still end up in the courts as a number of parish councils consider challenging the entire policy.
If the legal challenge against these succeeds, it is back to the drawing board and maybe a reprieve for some of Nottinghamshire's greenbelt sites.
Lib Dem councillor for Broxtowe Borough Council, Mr Watts, said brownfield sites had been allocated but some greenbelt areas were needed to accommodate a growing population.
'Fair hearing'
He added: "We cannot accommodate all the houses we need on brownfield land.
"If that was possible we would not contemplate building on the greenbelt.
"We believe we have done everything right, an independent government inspector approved our thinking on this, and I'm confident if there is a challenge we would win it."
Ken Matham, a former head of planning for Nottingham City Council, is advising Gotham, Thrumpton, Calverton and Barton in Fabis parish councils in challenging the plans in the High Court.
"We are happy for the court to decide because we feel we will get a level playing field there," he said.
"We will get a fair hearing and if it comes out against us, then OK, but at least we would have had an opportunity."