Nottingham hospitals unveil winter surge plans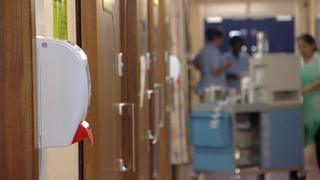 An extra £3.7m is being invested to try and ease pressure on Nottingham's hospitals this winter.
The A&E unit at the Queens Medical Centre was originally designed to cope with about 350 patients a day but now sees more than 550.
The government money will be spent on 152 extra staff and 69 new beds, at both the QMC and City Hospital - and more A&E cubicles.
In early 2012 about 550 operations were cancelled due to high emergency demand.
The NHS across England has been facing financial pressure due to surging demand and this often becomes more acute in winter.
GP hours
This has lead to many A&E units struggling to meet the four-hour waiting time target.
But Nottingham University Hospitals Trust's chief executive, Peter Homa, believes they are better prepared than ever.
He said: "This is the most comprehensive plan we have ever produced and we have done it in close partnership with other NHS and voluntary services."
The extra staff, which will include consultants, junior doctors and nurses, will be employed until March 2015.
As part of the broader effort to tackle NHS pressures a number of city GP surgeries are trialling extended opening hours, including weekends.