Greenpeace Cottam coal train protest leads to arrests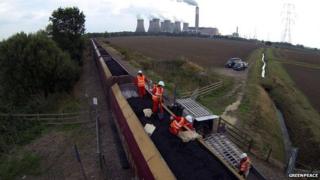 Three Greenpeace activists have been arrested after a train taking coal to a power station was occupied for 10 hours.
More than 40 campaigners boarded the train near Cottam power station in north Nottinghamshire on Tuesday.
The group were protesting about the continued use of fossil fuels to provide electricity in the UK.
British Transport Police (BTP) said it had also gathered evidence to "proceed with action against other individuals".
A spokesman for Greenpeace said: "Activists blocked the 400-metre freight train on sidings leading to Cottam power station in Nottinghamshire for 10 hours yesterday after flagging it down using industry-standard stopping signals.
"A highly realistic, life-size polar bear puppet was used to stop the train from moving.
"After climbing on to the wagons, the activists attempted to unload the cargo. Over ten hours they managed to fill over a thousand sacks with coal."
Power production
A BTP spokesman said : "Removing such a large number of people, whilst preventing further disruption and disorder had to be done carefully to avoid injury.
"Three people were arrested and officers were able to gather evidence at the scene to proceed with action against other individuals.
"We treat all incidents of trespass seriously and will continue to investigate the incident."
Both Cottam and nearby West Burton power stations, between Lincoln and Retford, are run by EDF Energy. The company said the operation of the plants had not been affected.
The two stations are capable of generating enough electricity for about 7.5 million UK homes.