Nottinghamshire Fire Service approves job and engine cuts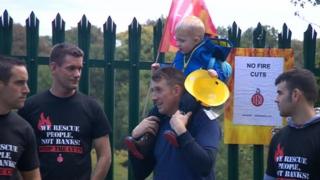 A fire authority has approved plans to remove engines from two stations and cut 32 full and part-time posts in a bid to save £2.4m by 2017.
Nottinghamshire Fire Authority voted in favour of removing one of two fire engines at Highfields station and one at Mansfield.
Chief fire officer John Buckley said other stations could provide back-up.
The Fire Brigades Union said while the books needed to be balanced, cutting engines and jobs was not the answer.
Unions had called for the sale of the service's headquarters, but the authority said it would not provide value for money.
The service also said it was considering charging for certain call outs.
Mr Buckley said: "One of those areas could be for repeat alarms activating unnecessarily... other areas could be for industrial accidents and cleaning up for spillages."
Regional chairman of the FBU Phil Coates said the plans would leave some parts of the county at risk.
"It is not right that Mansfield, one of Nottinghamshire's biggest towns, will now only have one fire engine," he said.
"We can't tackle a property fire with only one fire engine so we will have to wait for a second one to get there."
The fire service said the number of call outs had fallen in the last 10 years from 24,000 in 2003 to 9,800 in 2013.