Newark and Worksop pub customers breath tested on entry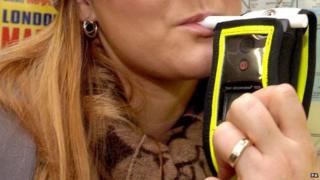 Late night venues in two Nottinghamshire towns have started breathalysing some customers before allowing them in.
It is part of the Alliance Against Violence campaign, which aims to reduce anti-social behaviour as a result of excessive drinking.
Door staff in Newark and Worksop will carry out tests on people they think may be drunk.
It follows trials in Mansfield, Norwich and Leicestershire.
Police and licensees said the use of breathalysers helped deter people drinking too much before going out and reduced arguments with door staff.
'Yes or no'
Ch Insp Paul Murphy, from Nottinghamshire Police, said: "When used in other parts of the country breathalysers have helped reduce violence and we've already seen positive results in Mansfield.
"This provides late night businesses with the tools to take responsibility for tackling customers who have the potential to cause them problems."
Jonathan Edwards runs AndWhyNot bar in Mansfield and has been trialling the scheme since July.
He said: "At first there was quite a bit of trepidation when we started doing it - people thought it was a Big Brother thing, but it's working well.
"When people come to the door we know they are drunk, but sometimes they don't realise how drunk they are.
"This gives our staff a useful tool to show them," he said.
"It also takes away any issues around them thinking it is a doorman that has a problem with them - the machine tells them - yes or no."
The guideline for refusal is twice over the legal limit for driving.