Nottinghamshire BBC poppy appeal makes art installation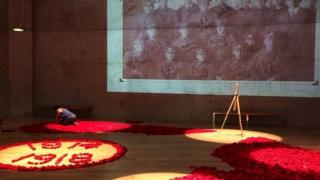 A project to remember the fallen from World War One has been turned into an art gallery exhibition.
BBC Radio Nottingham launched the Big Poppy Knit earlier this year to get listeners to make flowers representing those from the county who died.
The original target of 11,000 was quickly passed and now more than 60,000 have been received.
Now the poppies are on display at the Nottingham Contemporary before being sold in aid of the British Legion.
The gallery has placed the poppies on an oak floor, lit by spotlights, with names and photographs of the fallen projected on the walls.
'Amazing job'
Nottingham-born designer Paul Smith contributed a specially-designed flower.
Lynn Hanna, from the Contemporary, said: "I think everyone who has seen it so far have been very, very moved - the listeners have done an amazing job.
"One of the reasons it is such a fitting tribute is that each of the poppies is different and that is so appropriate as each one represents a single person."
Poppies will be accepted by the Contemporary and BBC Nottingham until 22 October.
After the weekend poppies will be distributed across Nottinghamshire by the Royal British Legion for the annual poppy appeal, alongside their paper poppies, with a suggested minimum donation of £2.