John Mallalieu inquest: Stroke team waited to treat patient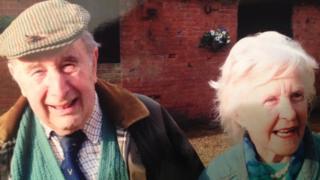 A stroke specialist had been waiting to treat a patient who was diverted to another hospital 17 miles away without her knowledge, an inquest has heard.
John Mallalieu, 89, died two weeks after suffering a stroke at his home in Caunton, Nottinghamshire on 6 December.
Nottingham Coroner's Court was told there had been miscommunication and confusion between hospital staff about the stroke unit's opening times.
It previously heard Mr Mallalieu had waited an hour for an ambulance.
Earlier, coroner Mairin Casey was told the ambulance delay was caused by the trial of a new call-handling system by East Midlands Ambulance Service (EMAS).
Delays in treatment
On Tuesday, Laura King, an A&E nurse at King's Mill Hospital, Nottinghamshire, said she had taken a call at 17:40 GMT to say the ambulance crew were arriving with Mr Mallalieu.
However she was later told the stroke unit was due to close at 18:00 GMT for the weekend and so she rang back and told the ambulance to divert.
The ambulance, which had been minutes away from King's Mill, was then taken on a 17-mile detour to Nottingham's City Hospital.
Meanwhile, stroke specialist Anoja Rajapakse, had been waiting at King's Mill Hospital for Mr Mallalieu.
She told the court she eventually decided to go home at 18:15 GMT as she assumed the patient had been taken elsewhere.
When asked why she had waited, she replied: "I would have treated him."
The hospital's trust said it now accepted stroke patients at its unit 24 hours a day, seven days a week to avoid a similar situation.
The trust said ambulance staff were also now able to speak directly to stroke unit staff, rather than going through A&E.
Both services have previously admitted a "catalogue of errors" following an internal inquiry.
The inquest will conclude on Friday.