John Mallalieu inquest: Delays had 'no impact' on stroke patient's death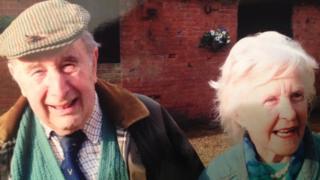 Delays in getting a stroke patient to hospital had no impact on his chances of survival, an inquest has heard.
John Mallalieu, 89, was being taken to King's Mill Hospital in Nottinghamshire when his ambulance was diverted to another hospital 17 miles away.
Dr Ashit Shetty said it would have made "no difference" had he received clot busting treatment 30 minutes earlier.
Mr Malalieu died at home in Caunton, Nottinghamshire, two weeks after suffering the stroke in December.
First signs
Dr Shetty told the court he administered a treatment, thrombolysis, which breaks down blood clots, to Mr Mallalieu at Nottingham City Hospital on 6 December.
The treatment must be administered four-and-a-half hours after the first signs of a stroke. Dr Shetty said he treated the patient 3hrs 22mins after his stroke.
Coroner Mairin Casey asked him if his chances of survival would have been different had he been treated half an hour earlier.
"No. Thrombolysis does not make any difference to mortality rates... but it can make a difference to disability," said Dr Shetty.
An internal inquiry earlier this year found there had been "systematic failings" at East Midlands Ambulance Service (EMAS) and at King's Mill Hospital in Sutton-in-Ashfield.
The inquest is due to conclude on Friday.