John Mallalieu inquest: Series of errors led to delays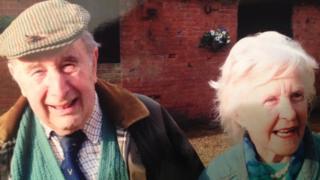 A series of errors and miscommunication led to long delays in the treatment of a Nottinghamshire stroke patient who later died, a coroner has said.
John Mallalieu, 89, died two weeks after suffering a stroke at home in Caunton, Nottinghamshire, last year.
An ambulance took over an hour to reach him and he was turned away at King's Mill Hospital and sent to a unit 14 miles away.
Health service officials said lessons had been learned.
Recording a narrative conclusion, coroner Mairin Casey described the sequence of events as "unprecedented" and highlighted several missed opportunities to provide Mr Mallalieu with the best care.
She said if protocols had been followed he would have received treatment within the recommended three hours.
However, she stressed there was no evidence the outcome would have been any different.
She added that the stress suffered by Mr Mallalieu's wife, Ruth, could have easily been avoided.
'Miscommunication and confusion'
Nottingham Coroner's Court was told the ambulance delay was caused by the trial of a new call-handling system by East Midlands Ambulance Service (EMAS).
An internal inquiry earlier this year found there had been "systematic failings" at EMAS and at King's Mill Hospital near Mansfield, Nottinghamshire.
Giving evidence at the inquest, ambulance dispatch officer Jonathan Schofield said a new call-handling system was being tried on that day.
He said he had been nearing the end of a busy 12-hour shift without any meal breaks and an opportunity was missed to get a double-crew ambulance to the house quickly.
Changes had been made at the ambulance service to the way calls are handled to ensure similar mistakes did not occur again, the inquest heard.
The hearing was also told there had been "miscommunication and confusion" between hospital staff about the King's Mill stroke unit opening times.
However, the hospital said it now accepted stroke patients at its stroke unit 24 hours a day, seven days a week, to avoid a similar situation.
It said ambulance staff were also now able to speak directly to stroke unit staff, rather than going through A&E.