Dorket Head landfill site in Arnold closes over 'smell'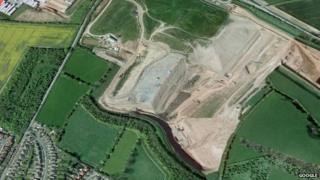 A landfill site which kept nearby residents awake at night because the smell was so bad has closed.
The Environment Agency said Dorket Head in Arnold, Nottinghamshire, stopped accepting waste in September and work to cap the site had now finished.
Only soil and other restoration materials will be used over the next few months to tidy up the land.
Janet Bicknell, who lives about a half a mile from the site and campaigned to get it shut, said she was delighted.
'Feeling sick'
She said: "The smell was horrible, a gassy old food smell, that used to get into the house without the windows and doors being opened.
"I can hang my washing out and sit in the garden now without feeling sick."
The site opened in the early nineties for the disposal of non-hazardous waste and has been managed by FCC Environment since 1998.
An Environment Agency spokeswoman said: "We have overseen the implementation of a series of additional measures in recent years to improve issues at the site and reduce the impact to residents living nearby.
"Because of these measures and our continued regulation, FCC Environment have made the decision not to go ahead with the planned construction of the next waste cell."
The smells were blamed on an increase in recycled and organic waste and measures were taken to try and reduce its impact.
The agency claimed the gas from the site did not pose an immediate risk to human health.