Nottinghamshire County Council plans smaller bins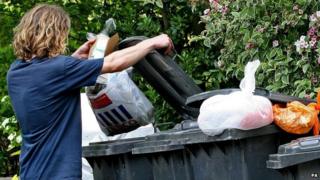 Smaller household waste bins could be introduced as part of measures to help Nottinghamshire County Council save money.
The authority said it was one of the measures in its budget plan to help save £30m in the next financial year and £77m by 2018.
Six care homes could also be closed and about 500 jobs could go.
Trade union Unison said the council should challenge austerity measures rather than implement them.
Residents from the care homes would be offered places, where suitable, in Extra Care housing, which is run by the authority and in some cases by private sector providers.
Pete Watson, from Unison, warned that taking care homes out of council control would have an impact on quality.
"To have a profit motive means that quality can be interfered with because in order to make a profit they have to cut standards and pay," he said.
'Deliver services'
Other ideas put forward for public consultation include sharing a company with Cornwall Council to manage road maintenance, providing fewer rural bus services and getting volunteers to run libraries.
Labour council leader Alan Rhodes said savings had to be made as a result of government spending cuts.
He said: "It's about working partnership with both public and private sector partners and we're going to be doing more of that.
"But we're also hoping to create some trusts, particularly around our library services, and we're going to encourage local volunteers to come forward and deliver services particularly in rural locations."
Smaller bins would be trialled in one of Nottinghamshire's seven districts before being rolled out to the whole county.
Rubbish is collected by district councils but the county council has to pay for it to be disposed, and sending it to landfill or incinerating it costs more than recycling.
The council believes that reducing the size of general waste bins from 240 litres (52 gallons) to 180 litres (40 gallons) would encourage people to recycle more.
The budget proposals will be considered by the full council on 26 February.