Leg splints stolen from Skegby cerebral palsy teenager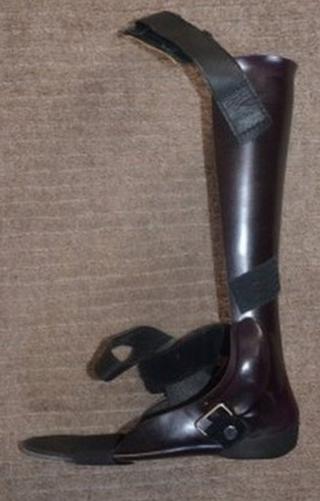 A mother fears her disabled son's muscles will deteriorate after his leg splints were stolen.
The 15-year-old, who has cerebral palsy, has been left "devastated" after thieves took them from a car in Skegby, Nottinghamshire.
He is unable to stand or walk while he waits seven weeks for a new pair, Michelle Clements said.
Nottinghamshire Police said the splints may have been stolen for an attached pair of trainers.
Second theft
"He was devastated. It means he can't stand and he can't even walk with his walking frame," said Ms Clements.
"Even with an emergency order it's going to take seven weeks to get a new pair of splints made and in that time his muscles are going to deteriorate because he can't even do his physio."
She said this is the second time the teenager's splints have been stolen. The previous time, the splints were found dumped in their garden but the trainers had been removed.
Police said the splints, similar to the ones pictured but camouflage in design, were taken on Monday or the early hours of Tuesday from a car in Mansfield Street.