Nottingham bid launched for UN literature status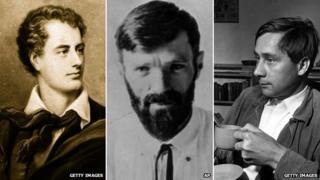 Nottingham has officially launched its bid to become a United Nations City of Literature.
Writers, experts, both universities, and the city council met at an event hosted by the Lord Mayor at the Council House on Thursday evening.
The city's literary heritage includes links to Lord Byron, DH Lawrence and Alan Sillitoe.
A tram was also named after Mr Sillitoe - his 1958 novel Saturday Night and Sunday Morning was filmed in 1960.
'Enormous benefits'
Mr Sillitoe's son, David, said: "We need to get more recognition and I guess that's what this bid is all about.
"But we need the local council to get behind Sillitoe, Byron and Lawrence because those three together are an amazing heritage.
"There's not many towns or cities in England that have got that."
---
Nottinghamshire writers
Lord Byron (1788 - 1824)
Romantic poet Lord Byron lived at Newstead Abbey House, in Nottingham, on and off between 1808 and 1814. He was said to be "mad, bad and dangerous to know".
DH Lawrence (1885 - 1930)
DH Lawrence was born in Eastwood, the son of a miner. He became a notorious author, best known for Sons and Lovers and Lady Chatterley's Lover which was banned for its sexual content.
Alan Sillitoe (1928 - 2010)
The Nottingham-born novelist emerged in the 1950s as one of the Angry Young Men of British fiction. His works included Saturday Night and Sunday Morning, and The Loneliness of the Long Distance Runner, both made into films.
---
Other cities which already hold the title include Edinburgh, Dublin and Norwich.
Screenwriter William Ivory, whose credits include Made In Dagenham, said: "Nottingham has an extraordinarily rich literary heritage.
"It also has a terrific reputation for both supporting literature and encouraging its creation with a mass of grass roots writing schemes."
The bid has to be submitted to the United Nations Environmental, Scientific and Cultural Organisation (Unesco) by March.
There are currently seven Cities of Literature - Edinburgh, Dublin, Norwich, Melbourne, Iowa City, Reykjavík and Krakow.