Dog attack woman files compensation case against friend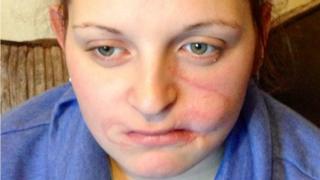 A woman who had her lip torn off in an attack by her friend's dog has filed a civil claim for compensation.
Laura Holmes, 21, was 29 weeks pregnant when she was attacked by the American Akita dog at her friend's home in May.
Owner Tracie Taylor, of Hope Close, Nottingham, was this week banned from owning animals for life and handed a suspended 16-week jail sentence.
Ms Holmes, who had extensive corrective surgery after the attack, said she still struggled to eat, drink and talk.
She was also bitten by the dog on her arms and left leg.
Ms Holmes had to give birth to her son by Caesarean section as doctors said there was too much risk of rupturing her wounds with a natural birth.
"It's been a traumatic few months," she said.
"Being told that you could die, as well as your child, was too terrible to contemplate. I am slowly but surely improving and trying to be the best mum I can be."
Julie Walker, of Nelsons Solicitors, said Ms Holmes was having counselling to help with the trauma of the attack.
"She has been incredibly brave but still faces a very protracted and lengthy rehabilitation ahead of her, with further reconstructive surgery planned in the new year," said Ms Walker.
"Laura has found it difficult to look in a mirror since the attack.
"She has only been out of her house alone on a couple of occasions and is petrified of coming into contact with unknown dogs.
Taylor, 49, was told by the judge at Nottingham Magistrates' Court to pay Ms Holmes £1,000 in compensation.
Her prosecution was one of the first under the amended the Dangerous Dogs Act.
Dog owners are now liable for prosecution regardless of where an attack takes place. Previously they could not be prosecuted if the attack happened at their own property.