Nottingham Queen's Medical Centre visitors face long queues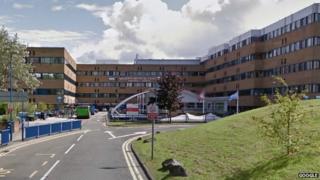 Patients have said they are having to queue for up to an hour to park at a Nottingham hospital.
In recent months, queues have tailed back around Queen's Medical Centre's ring road.
A parking attendant said the problem stems from staff using visitor car parks.
Nottingham University Hospitals NHS Trust said more spaces would be freed up as city tram extension works end next year.
One of the staff car parks - Hillside, which attendants said had space for 400 to 500 cars - closed last month, putting pressure on the hospital's other spaces.
It was a temporary car park, the trust said, to offset spaces lost during the tram works.
'A bit silly'
However, parking attendant Adna Karin said the closure of Hillside caused "big problems" as staff started using visitor spaces.
One patient said: "It's a bit silly. I've been visiting QMC for a number of years but it's a lot worse now.
"I used to get a parking space in 20 minutes now it's about an hour."
Trust director of strategy Daniel Mortimer said Hillside was a temporary agreement between the trust, the council and the tram contractor but the site is now being developed into homes.
"We are working at the moment on the way we allocate spaces and the way we exit and enter the car parks to help the flow around the site," he said.
"Staff shouldn't be parking in patient spaces and vice versa."
He said parking enforcement would be "stepped up" in the New Year.
A new car park is due to be built at the QMC in the next 18 months at a cost of £1.5m.