Newark roads: 'Severe congestion' clogging up town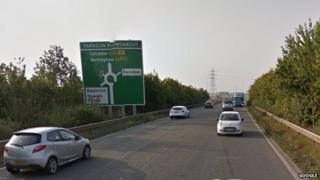 Councillors are lobbying the government for improvements to "severely congested" roads around a Nottinghamshire town.
Improvements could include turning a single carriageway stretch of the A46 outside Newark into a dual carriageway.
It is the only part of the A46 in the East Midlands that is not a dual carriageway.
Traders in the Nottinghamshire town said the congestion was "like being in London", and was putting off shoppers.
'No assurances'
Newark and Sherwood District Council leader Roger Blaney said the A46 was so congested it was forcing drivers through the town centre, clogging up the town's streets.
The town's bypass's "journey time reliability" - a Highways Agency measure of congestion - was the third worst in the East Midlands and the 17th worst in the country, he said.
Mr Blaney said the Department for Transport was sympathetic to the problem but he could not get assurances that the area would get funding in the upcoming Autumn Statement.
Speaking at the CBI conference, Prime Minister David Cameron pledged to spend £15bn on "pinch points" on the nation's roads.