Five cows die after Nottinghamshire A46 tractor crash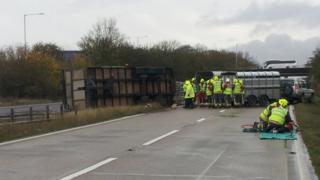 Five cows have been killed in a collision between a tractor and a cattle lorry on a main road.
Two animals escaped after the crash, which led to the closure of the A46 at Widmerpool, Nottinghamshire, near the junction with the A606 and Back Road.
They were recaptured but two others died at the scene and three more were euthanised due to their injuries.
The road reopened at about 13:20 GMT after the vehicles were removed. Four people had to be taken to hospital.
Five more of the cattle were recovered from the scene, Nottinghamshire Police said.