Gedling waste energy plant: Concerns over 'nightmare smells'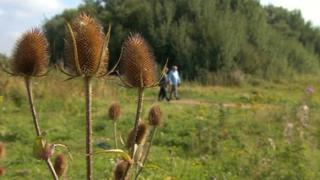 An energy plant designed to run on food by-products and agricultural waste, is being opposed by local residents concerned about traffic and smell.
Tamar Energy wants to build the anaerobic digester on a former coal pit site in Gedling, near Nottingham.
Objections include concerns over "nightmare smells" and traffic chaos.
A Tamar spokesman said the digester site was on the edge of the city and would include noise abatement measures and odour filters.
A consultation on the planning application runs until 21 November.
The £12m plant would use up to 63,000 tonnes of food waste a year, producing enough energy to power 6,000 homes.
Terry Lock, of the Friends of Gedling Country Park, said the proposed location was "completely wrong" as it was too close to schools and homes.
"Traffic is bad enough as it is, but if you add another 90 lorries on that road, it will create traffic chaos," he said.
The digester could become "a nightmare" if problems developed and the smell from the facility had to be vented from buildings, he said.
Nottinghamshire Wildlife Trust said "inadequate survey work" had been done to determine if any reptiles or protected species on the site were threatened by the work.
Tamar Energy said up to four lorries an hour would enter and leave the site on Arnold Lane.
The location was close to main transport routes on the edge of Nottingham and would add to the area's renewable energy production, the firm's planning application said.
Odour from the plant would be decreased by bio-filter system and a system of ductwork and fans.
The feedstock for the plant would be delivered in sealed vehicles and the doors to the plant would only be opened for "very short periods of time" during deliveries.