Nottingham Forest settle David Kelly unpaid bonus case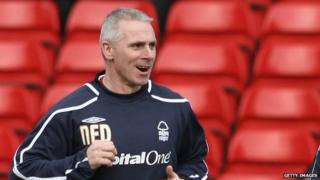 Nottingham Forest has settled a legal dispute with one of its former coaches over alleged unpaid bonuses and for breach of contract.
David Kelly, 48, who has played for Wolves, Leicester City and Newcastle, was sacked by the club in March.
Mr Kelly, along with former coaches Peter Williams and Julian Darby, were at the employment tribunal at Bryon House, Nottingham, on Thursday.
The club settled out of court with no admission of liability.
David "Ned" Kelly arrived at the City Ground as Billy Davies' deputy manager in February 2013 for a second spell at the club.
However, following a 5-0 defeat at Derby County in March, Mr Davies was sacked as manager of the club, along with Mr Kelly.