Ethsham Ghafoor taxi gun murder: Letter clues revealed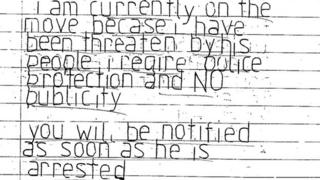 Three pieces of evidence have been revealed by police investigating the 1994 murder of a taxi driver.
Ethsham Ghafoor, 26, was shot dead in his car on 22 November 1994 beside playing fields on Lambley Lane in Gedling, Nottinghamshire.
As part of a major review of the case, police have released parts of two letters and a card from people who claimed to have information.
Officers said they were keen to trace whoever wrote them.
Uniformed officers spent part of Thursday handing out leaflets to taxi drivers in Nottingham in the hope of finding out new information.
Detectives also released CCTV and pictures of Mr Ghafoor, known as Shami, in the hours before his death.
Crimestoppers has offered a reward of up to £20,000 for information about the case.
While Mr Ghafoor was involved with some financial and personal disputes, the police said there was no obvious reason for someone to want him dead.
Now extracts from two letters, and the front of a card containing information of "significant interest to the investigation", sent the year after the shooting, have been published.
Det Ch Insp Tony Heydon, who is leading the investigation, said: "The correspondence sent to Shami's family may well be irrelevant to the inquiry, however, we know that whoever sent it took time and effort to do so and it would be more prudent to try to identify who sent it and why.
"One of the letters used a stencil to write out the words - quite a time consuming task. The Wallace and Gromit card seems like quite a strange thing to send to the family of a murder victim.
"Do you know who sent these? Think back 20 years, did a relative or partner show significant interest in this murder? Were they acting out of the ordinary? If so, please tell us what you know."
Mr Ghafoor's family said they had gone through "20 years of pain" made worse by not knowing why he died.