Nottinghamshire councils shun smaller bins plan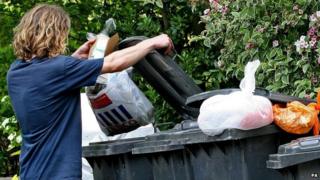 Plans to cut the size of household waste bins by 25% have been given a cool reception by local councils in Nottinghamshire.
The county council said smaller bins would cut landfill costs by encouraging recycling.
But officials in Rushcliffe, Bassetlaw and Gedling district councils have said they will not take part, insisting current arrangements can be used.
The county council said it needed to cut its £20m landfill bill.
The authority put forward the idea as part of a budget plan to help save £30m in the next financial year and £77m by 2018.
It wants to reduce the size of general waste bins from 240 litres (52 gallons) to 180 litres (40 gallons)
But is has to be approved by the various districts responsible for collecting household waste.