Nottingham tram extension to Chilwell and Clifton delayed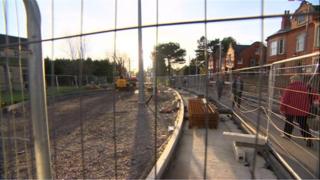 An extension to a city tram network will be delayed for six months, its contractor has said.
Nottingham's £570m tram extension to Chilwell and Clifton had been due to be up and running by the end of December.
Last month, the city council said the opening had been delayed until April but Taylor Woodrow Alstrom has now said the lines will open in mid-2015.
But construction work in Beeston, in front of shops and homes, will finish before Christmas, it said.
The contractors blamed the latest delay on the need relocate underground utilities.
Project director Paul Harris said it will open "as early as we can" but it will be "towards the middle of the year".
Milan Radulovic, leader of Broxtowe Borough Council, through which the line to Beeston and Chilwell travels, said he has been "assured" the works in Beeston will finish this month.
"I intend to hold them to their word," he said after a meeting with the contractors.
Earlier this month, residents in Beeston said they were kept awake at night by late night tramworks.
Broxtowe MP Anna Soubry said she has asked the city council about whether Taylor Woodrow Alstrom will be fined for overrunning.
"We now need to know what the financial consequences are and if there's any money going I think it should go to the residents to compensate them for what they've had to live with for two years."