Nottinghamshire flooding victims to apply for grants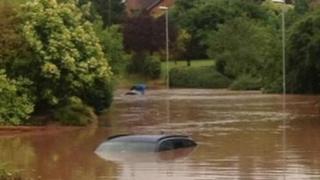 People affected by flooding in Nottinghamshire last year are set to be offered government grants after initially missing out.
The government offered up to £5,000 to homes and businesses in England flooded between 1 December and 31 March.
However, residents in Southwell, hit by storms earlier in 2013, said they had been treated unfairly.
The government is to now extend its scheme meaning more flood victims will qualify for a share of £2m.
It follows a campaign by the Conservative MP for Newark Robert Jenrick, after residents in his constituency complained government compensation rules were unreasonable.
He said homeowners would now be able to apply for an average payout of £5,000 through their local authority.
Mr Jenrick said: "The key feature is a repair and renew grant which is £5,000 for any household that was flooded last year, which they can use to do individual home flood protection measures."
Businesses will be able to claim back some of their rates and farmers could claim money for having their land flooded, he added.