Notts County demands Peta anti-dairy advert is removed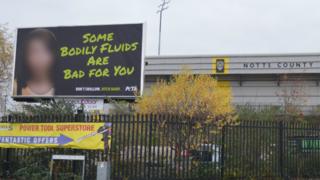 Notts County football club has demanded a sexually suggestive advert by the animal rights group Peta is removed from outside its stadium.
The anti-dairy poster by People for the Ethical Treatment of Animals is on a billboard at the Meadow Lane ground.
The club said it was "not in keeping" with its family ethos and that it would be replaced by Friday.
Peta said it was a "cheeky" advert with a serious message and that it would be reactionary to take it down.
The advert was posted on Wednesday and warns people that dairy could be harmful to people's health advising "Don't swallow. Ditch dairy".
The picture, which the BBC has chosen to blur, shows a woman spattered with white liquid next to the words "some bodily fluids are bad for you".
'Tongue-in-cheek'
Peta said it was prompted by a Swedish study which appears to indicate drinking milk could be harmful, although researchers issued a warning that the results should be "interpreted cautiously".
But Notts County reacted swiftly after it saw the billboard and called for its removal.
Damian Irvine, the club's commercial director, said: "Once the content of this advert was identified we informed advertising company Space Outdoors who agreed the content was not in keeping with our community and family focused values.
"The agency committed immediately and proactively to change the advert effective Friday, 5 December."
Peta said families were subjected to "misleading dairy-industry advertisements" and this poster was to counter those arguments.
"This tongue-in-cheek billboard delivered a serious message, and it seems reactionary to remove it," a spokesman added.
A spokeswoman for the Advertising Standards Authority said it cannot comment on individual adverts but if people were offended they can complain to the authority,