Beeston army engineers in homecoming parade
Soldiers who were among the first to go to Helmand in Afghanistan, and were some of the last to leave, have marched through part of Nottinghamshire.
In 2005, members of the 64 Works Group, based at Chetwynd Barracks, Chilwell, were sent to build Camp Bastion.
As combat operations ended this year, its soldiers also dismantled parts of the base.
Hundreds of people lined the streets in nearby Beeston and saw a ceremony to officially welcome the troops home.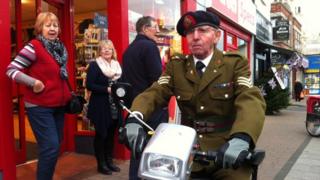 As well as a civic reception, campaign and service medals were presented.
The unit, also known as the Nottingham Royal Engineers, are part of 170 (Infrastructure Support) Engineer Group which helps build and maintain military facilities.
The group's commanding officer Lieutenant Colonel Phil Crick said: "The support that we get from the community has been enormous and this is our opportunity to march back through our community.
"We are your sappers, we have been based here for a very long time and it is lovely to be able to march back like this."
---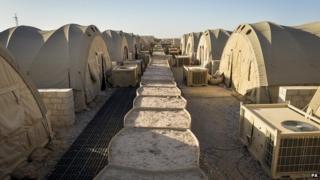 170 Engineer Group
Camp Bastion (pictured) at its largest extent housed three main camps, with about 28,000 personnel and covered an area roughly the size of Reading
Projects within the camp included building an aircraft control tower and a military hospital
Designed and developed the Forward Operating Bases (FOBs).
Design and construction of 1,050km (652 mile) Helmand Road known as Route 611
Supported infrastructure projects including the construction of police stations, schools and medical facilities
(Source: Ministry of Defence)
---
Anne Hudson, from Beeston, was among the crowds: "I have come along today to support our soldiers. No matter what you think about why they were there, they have done an incredible job but now it is time for them to come home for Christmas."
A small number of 64 Works Group remain in Kabul to train local soldiers but will return early in 2015