Resist Porn Culture brands Peta dairy advert 'misogynistic'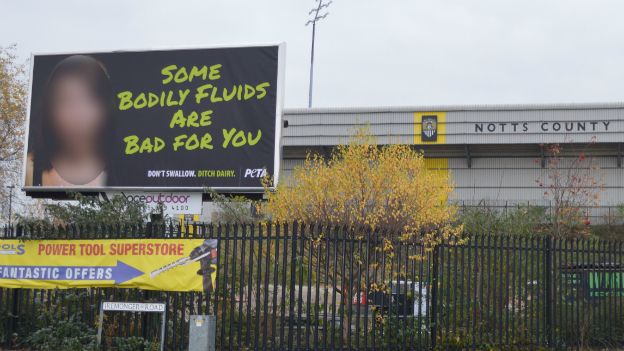 An animal rights group has been branded "misogynistic" for using a sexually suggestive image of a woman in an anti-dairy products advert.
The People for the Ethical Treatment of Animals (Peta) ad is on a billboard outside Notts County FC's stadium.
Campaign group Resist Porn Culture said the poster was "sexist" and called for tighter regulations.
Peta said "there was no final word on what offends women" and women have written in to say they love the advert.
The Advertising Standards Authority (ASA) said it had received complaints and was considering an investigation.
'Subservient and brutalised'
Peta's billboard went up on Wednesday and immediately drew the attention of the Nottingham football club.
The poster shows a shocked woman with white liquid splashed over her face next to the words "some bodily fluids are bad for you".
Lisa Marie-Taylor, from Resist Porn Culture, said adverts of this kind were inspired by the pornography industry, which she said depicts women as "subservient and often brutalised beings".
She added: "Peta's sexist, misogynist adverts aim to be original and thought-provoking but they are neither.
"Resist Porn Culture calls on the ASA to implement more stringent guidelines around such adverts and insists that the ASA adheres to its purpose and strategy statement 'to make every UK ad a responsible ad'."
A spokeswoman for the ASA said four people had complained because the billboard was sexual and placed near a football stadium where it was likely to be seen by children.
She said the complaints would be looked at and an investigation of the advert considered.
A Peta spokesman said the billboard was a "tongue-in-cheek warning" about the dairy industry's treatment of cows
He added: "While some people might disagree with our tactics, there is no one final word on what offends women and what doesn't.
"Many of the women here - and the women who have written in telling us they love the ad - have a different opinion."
Related Internet Links
The BBC is not responsible for the content of external sites.