Hucknall police officer Chris Young cleared of sexual misconduct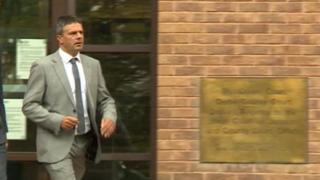 A police officer has been cleared of six charges of sexual misconduct against women he met on duty.
PC Chris Young, of Nottinghamshire Police, was charged with targeting witnesses in criminal investigations.
A jury at Derby Crown Court found him not guilty of the sexual misconduct charges and a further charge of misconduct by touching.
PC Young, who worked in Hucknall and Worksop, is currently suspended from his job.
Nottinghamshire Police Federation chairman Phil Matthews said PC Young was "delighted at the result … after nearly two and a half years of hell".
PC Young denied all the charges, which were alleged to have happened over a nine-year period against seven women.
A police spokesman said: "The internal conduct process in respect of the allegations against PC Young is yet to be concluded."