River Trent car plunge victim 'lucky to be alive'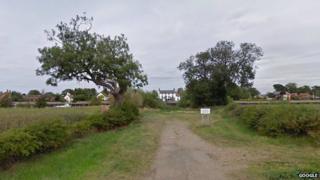 A man is "very lucky" to be alive after spending half an hour in a river after accidentally driving into it.
The victim freed himself from his car but then drifted down the River Trent in Nottinghamshire, where he was heard screaming for help, on Tuesday.
Firefighters were on strike, so the fire service vessel was unavailable, but they rescued the man in Fiskerton with the help of a nearby boat owner.
He was still conscious on being pulled from the water at about 18:30 GMT.
Chief fire officer John Buckley said he was found about 400m (1,300ft) from his Audi A3, following a search.
"In the darkness that can be quite a difficult thing to do, so it was quite fortunate he was spotted and very quickly recovered before he succumbed to the cold of the water," Mr Buckley told BBC Radio Nottingham.
"He had probably been in the water for about 30 or 35 minutes at the time he was rescued, which is a actually very long time to be in cold water, so he's a very lucky individual indeed.
"Fortunately, as our crews arrived there just happened to be an individual there with his own boat."
The man, in his 20s, was taken to hospital and has since been discharged.
Boat owner Rob Hall-Palmer said he was "a gibbering mess" when they found him clinging to a pontoon.
"If we hadn't found him all the firemen on the boat all sort of agreed that we would have been collecting the body in the morning," said Mr Hall-Palmer.
"We are not sure why it has gone in the water at the moment but it is the end to the old ferry crossing.
"The land there isn't secured so you can drive off it.
"This is not the first incident we've had - I think it's the third time I've been out with the fire brigade."
Nottinghamshire Police has appealed for witnesses to contact them.