Nottinghamshire charity sends Angelina Jolie 'Ay up mi duck' t-shirt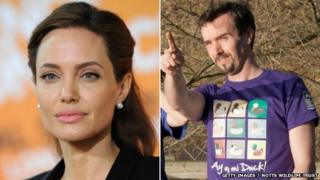 Actress Angelina Jolie has been sent a t-shirt bearing the phrase "Ay up mi duck" after she baffled a Los Angeles audience last month.
The actress attempted a Derby accent as she introduced actor Jack O'Connell, from the city, with the East Midlands phrase at the Hollywood Film Awards.
The phrase is being used to promote a Nottinghamshire Wildlife Trust appeal for one of its nature reserves.
Tim Sexton from the trust said it had yet to receive a response.
He said it would "vastly help" to promote the appeal, to raise funds for the newly-extended Skylarks Nature Reserve, near Holme Pierrepont, if she wore it.
"Whilst we are quietly confident that she will receive the t-shirt, whether she actually wears it is another matter," he said.
The trust convinced BBC Springwatch presenter Chris Packham to don one of the campaign t-shirts after a talk earlier this month.
Speaking at the awards ceremony in Los Angeles in November, Jolie said: "It is my privilege to present the New Hollywood award to the least Hollywood artist I know, straight from Derby, ay up me duck, Jack O'Connell."
O'Connell has the lead role in Jolie's upcoming war drama Unbroken, which she produced and directed.
The audience laughed when O'Connell greeted them with: "Ay up me ducks."
Twitter users reacted with a mix of confusion at why she was talking about a duck and delight at her use of the regional phrase.
"Ay up" is a greeting typically used in the North of England and the Midlands instead of hello. "Mi" means "my", while "duck" is an affectionate term for another person.