Arnold to get cash to investigate flooding problems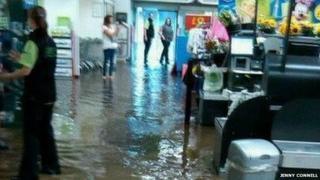 A town repeatedly affected by flooding has been awarded £30,000 to investigate the problem.
Homes and businesses in Arnold, near Nottingham, were damaged during flash floods in the summer and in July 2013.
The government money will be used to examine flood risks in the Day Brook catchment area including Front Street and Mansfield Road.
Gedling Borough Council said it could help reduce flooding.
In July 2013, about 1.4in (35.6mm) of rain fell in the space of 30 minutes causing disruption to roads and public transport services across Nottinghamshire.
In Arnold, a number of shops were flooded causing damaging to carpets and stock. The ASDA supermarket, in Front Street, had to close after water spread throughout the store.
A stone wall belonging to a community centre also collapsed due to water pressure.
Council leader John Clarke said: "We welcome this investment to look at ways to reduce the flooding around the area, especially in places such as Front Street, Arnold which suffered so much due to the flash floods."